Wallpaper represents hope in Cape Town – World Design Capital 2014
Tuesday, May 22nd, 2012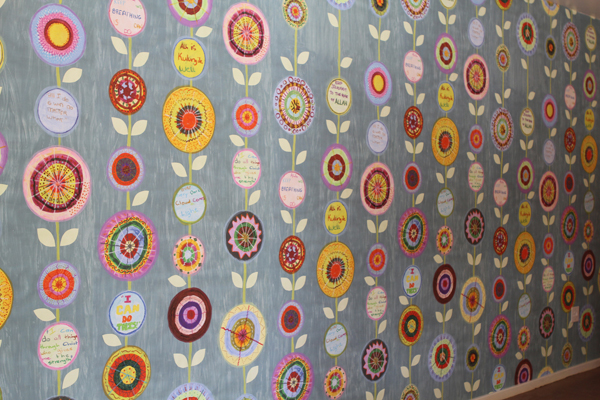 During the bidding phase of Cape Town's Winning World Design Capital 2014 campaign, the focus was often on the need that Cape Town had, not for high-end 'stuff and pretty objects', but for creative problem solving. The emphasis was on the important role that interesting, functional and beautiful objects and environments play in transforming lives (the successful application of user centred design principles).

Textile designer Jane Solomon, at the request of the Cape Craft and Design Institute, recently worked with women from the Saartjie Baartman Centre to transform their dining area. The one-stop centre in Manenberg caters for women and children who experience domestic and / or sexual violence. As well as providing a 24-hour emergency shelter, the centre also provides short and medium term residential care, childcare services, counselling, mental health support, and legal and economic empowerment services.
Due to limited resources, the main section had an under-equipped and uninviting dining area. Synnov Skorge, director of the Saartjie Baartman Centre, says: "The women come here under extreme, emergency circumstances. Our funding covers the basic needs, but we wanted a welcoming, comfortable dining space where the women could enjoy their meals with their children and reconstruct their families."
In an effort to enable and inspire, Jane worked with 10 women from the centre over four days to redesign their visual environment … collaborating on the creation of a colour palette and incorporating circular mandalas that express challenges, hopes, experiences and more. These paper circles – or flowers – were scanned and professionally printed as the "Flowers for Saartjie" wallpaper.
"The wallpaper is both attractive and profound because of the messages about [the women's] experiences," says Synnov. "It is a testimony to their lives and where they are going, about the strength they have shown." More information here.