Open Manifesto Issue 6 (Myth) launched
Tuesday, May 22nd, 2012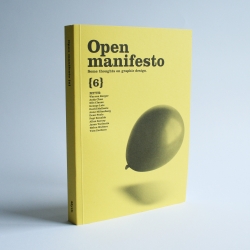 Open Manifesto began as a humble idea in Ireland in the mid 90s, but it took a further eight years to develop into a fully fledged publication. The first issue was published in 2004 in Sydney, Australia, where founder Kevin Finn was then based.
In early 2010, Finn Creative relocated to Brisbane, Australia, where Open Manifesto is now produced.
Open Manifesto is an independent, self-funded and self published journal of critical writing on graphic design culture. It is the first, and currently the only, journal of its kind based in Australia and was founded in 2003 by award-winning graphic designer, Kevin Finn. It is printed in one colour.
Open Manifesto sits at the intersection between visual communications, media, politics, culture, economics and social issues. Each issue of Open Manifesto is devoted to a specific theme and seeks to explore the wider relationship graphic design has with society; how design influences society and how society influences design.
Open Manifesto is an egalitarian publication and avoids singling out individual contributors to feature on the journal cover, preferring to list all contributors together—and in alphabetical order—regardless of fame or notoriety. Open Manifesto also includes opinions from students, professionals and academics alike, and encourages contributions from outside the field of graphic design.
Open Manifesto is produced in between regular studio work and each issue takes approximately eight to 12 months to complete.
Open Manifesto is also founded on one of Finn's beliefs: there is wisdom in learning.
At 295 pages, it has taken almost 18-months to research, curate, compile and produce Open Manifesto issue #6, but the results are sensational.
Here is a quick overview of this issue's content:
Among others, investigative journalist and author Tom Zoellner explores the role of the myth in society, focusing on how DeBeers' advertising and marketing infiltrated Japanese culture and seduced the world with diamonds. The legendary George Lois talks about his politics, discusses his unique relationship with Esquire editor Harold Hayes, reveals how Paul Rand influenced Bill Bernbach and debunks the Mad Men TV series. Dean Poole shares his experiences transitioning from artist to internationally acclaimed designer, discusses the business of design and the influence design has on culture. Warren Berger presents an in-depth exploration of the power of Design Thinking, while Helen Walters questions the potency of the Design Thinking trend.&n bsp;Allan Savory dissects the myths around fossil fuels and climate change, arguing that agriculture has just as much impact on the environment—if not more, ridicules the notion of sustainable projects, shares his views on vertical farming and offers a solution that could possibly save the planet.
Purchase your limited edition copy of issue #6 (Myth) here.
'What happens when designers take responsibility for their own ideas and the messages that they are delivering to the marketplace? What happens when the people delivering the goods begin to unwrap the packages and take a look at what's inside? What happens when the people with the power to shape public imagination begin to understand just how powerful they are in defining our reality? What happens when one of those designers gives voice and space to that important discourse? Open Manifesto happens. That's what happens.'

World-renowned designer, Bruce Mau, Massive Change Network