illusive forms and letters (typography-calligraphy-graffiti)
Wednesday, June 27th, 2012
Stroke Urban Art Fair – Berlin, 13 – 16 September 2012.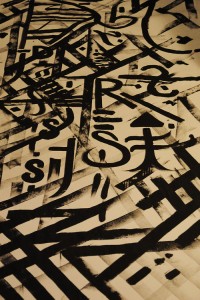 The Stroke Urban Art Fair Berlin, now in its third year will take place once again at the Postbahnhof Berlin. Within the last two years, more than 60,000 visitors came to see artists and galleries from all over the world including Poland, Brazil, Austria, USA, Italy, France, Chile, Spain, Switzerland or the UK. The organisers tell us "In fact the huge variety of subcultural dynamics of the last 30 years in this melting pot is self-replicating".
One of the exhibitors at this year's Stroke Urban Art Fair – Blaqk is a collaboration between 2 designers from Athens Greece, Greg Papagrigoriou and Simeκ – creating a mix of illusive forms and letters (typography-calligraphy-graffiti).